ME Students Highly Represented at Awards Program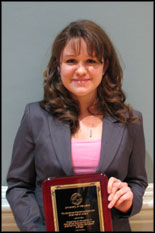 The Clark School held its annual Honors and Awards ceremony on April 9 in the Student Union's Colony Ballroom. Among the
honorees and recipients
were many students from the Department of Mechanical Engineering:
The Dinah Berman Memorial Award was presented to Bradley Eisenberg, in recognition of academic excellence at the end of the sophomore year combined with leadership or service to the college. Eisenberg maintained a 4.0 GPA, traveled to Brazil to work with Engineers Without Borders, developed the weBike system for the campus community and participating in the Inventis Academy of Engineering Leadership.
Bradley was also the recipient of the Department of Mechanical Engineering Academic Achievement Award, presented to the junior in mechanical engineering who has attained the highest overall academic average.
The Kim A. Borsavage and Pamela J. Stone Student Award for Outstanding Service was presented to junior Heather Bradshaw, a member of the Tau Beta Pi engineering honor society, Omicron Delta Kappa leadership society and Golden Key International Honors Society. Bradshaw was a sophomore representative in the Society of Women Engineers, has participated in Engineers Without Borders, and is engaged in a co-op position with NASA Goddard Space Flight Center this semester, focusing on the next generation of space suits. She is a member of the QUEST quality enhancement systems program and is a Clark School Ambassador. Last week it was announced that Bradshaw has won a prestigious national Goldwater Scholarship for 2008-2009 on the basis of academic merit.
The A. James Clark School of Engineering Dean's Award was presented to Rachel Kerzner, a senior in mechanical engineering. Kerzner has a GPA of 3.97 and has appeared on the dean's list for every semester of her college career. She completed the Engineering Honors program this spring. Kerzner is a member of the Tau Beta Pi engineering honor society and Pi Tau Sigma international mechanical engineering society. Her leadership and service are exemplary, including participation in the QUEST quality enhancement systems program, the College Park Scholars program, Clark School Ambassadors, and Women in Engineering Advisory Board, and mentoring other students for QUEST and Women in Engineering.
Rachel was also a recipient of the Department of Mechanical Engineering Chairman's Award, along with Stephanie Karpovitch. This award is presented for excellence in academics, outstanding service to the department, or leadership in the department.
An Outstanding Engineering Co-op/Intern Award was given to Brendan O' Leary, who has been an intern at ATK since May 2007. In his internship, he worked on the development team for astronaut tools used to service the Hubble Space Telescope, and with staff and astronauts at the NASA Johnson Space Center.
Finally, the Keystone Design Challenge Award was presented to freshman engineering design teams who were tasked with building an autonomously controlled hovercraft. In a Fall 2007 competition winning team were ME winners Erick Alves de Sa (B.S. '11) and Jeffrey Jones (B.S. '11). From the Spring 2007 competition ME major Emily Friend (B.S. '09) was on a winning team as well.
Published April 11, 2008