Abisola Kusimo Receives Spirit of Maryland Award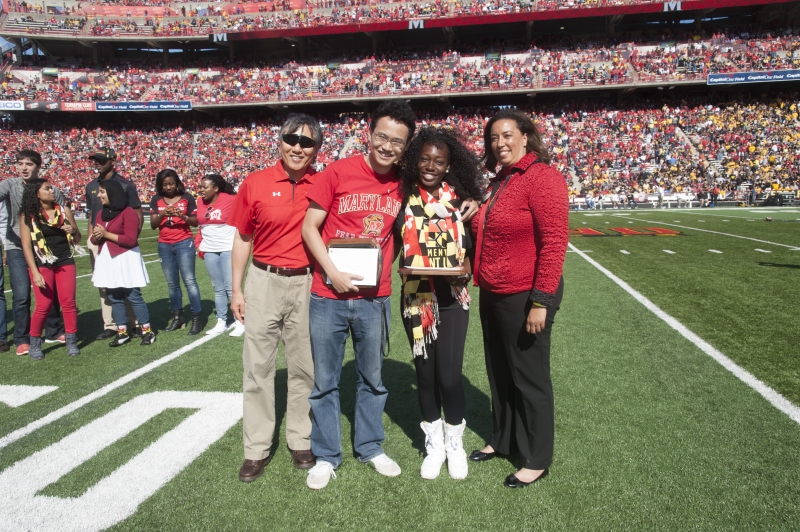 Photo from left to right: Dr. Wallace Loh, President of the University of Maryland; Fang Cao, double major in Physiology and Neurobiology and Computer Science; Abisoloa Kusimo; mechanical engineering student; and Nicole Pollard, President of the Maryland Alumni Association.
Mechanical Engineering senior Abisola Kusimo received the University's 2014 Spirit of Maryland Award. The award was presented at the University of Maryland homecoming football game versus Iowa on Saturday, October 18, 2014.
Kusimo is a mechanical engineering major with rhetoric communication, engineering leadership development and technology entrepreneurship minors. She is the President of Ted x University of Maryland organization and has participated in Habitat for Humanity and Alternative Break service initiatives. She is also a McNair Scholar and has received the Department of Mechanical Engineering Chairman's Award, and has also recently received the Center for Minorities in Science and Engineering Service and the Kim Borsavage and Pamela J. Stone Student awards.
The University of Maryland version of Homecoming Queen ang King, the "Spirit of Maryland" Award is presented to two outstanding senior student leaders—one woman and one man—at half-time during the homecoming football game. The award is presented to those senior students who most exemplify the "spirit" of the University of Maryland. Criteria for the award include outstanding scholarship, leadership, campus involvement, community service and communication skills.
Published October 29, 2014