Alumna Wins Leading Women Award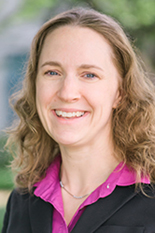 Cara Martin ('06, B.S., ME; '07, M.S., ME) was one of the "Leading Women" recognized by The Daily Record for her career accomplishments. Martin serves as Chief Operating Officer for Optimized Thermal Systems (OTS), focusing on business development and growth, customer outreach, and project management.
"Leading Women are making an incredible impact on their professions. In addition, they share a relentless commitment to inspiring change and are active volunteers and leaders in their communities," said Suzanne Fischer-Huettner, publisher of The Daily Record. "They are extremely accomplished, and their early success is just a prelude to the future. The Daily Record is pleased to honor them."
The Daily Record started Leading Women in 2010 to recognize the next generation of women leaders across Maryland. Judging is done by a panel of the past Top 100 Women and Leading Women. Honorees are selected for their professional experience, community involvement, and commitment to inspiring change. This year, 52 people were selected for the honor.
Martin obtained her bachelor's and master's degrees from the University of Maryland, College Park. Her experimental master's thesis focused on the performance of the accumulator in a household refrigerator application and was conducted at UMD's Center for Environmental Energy Engineering.
Martin previously worked as a consulting engineer in the heating, ventilation, and air conditioning (HVAC) and buildings industry, evaluating energy efficiency and conservation opportunities. This experience has served as a valuable resource in understanding OTS client needs and challenges in developing new HVAC and refrigeration technologies to meet stricter energy and environmental demands. Martin is a member of the American Society of Heating, Refrigerating and Air-Conditioning Engineers (ASHRAE) and has served on local, regional, and society level committees.
Published October 18, 2018