Alumni Help Students Explore Career Paths in Mechanical Engineering
The Department of Mechanical Engineering would like to thank the alumni who participated in the Fall 2014 semester of Mechanical Engineering's ENME 201 course, Careers in Mechanical Engineering.
Alumni participants gave presentations and shared their personal experiences as engineers to help students gain a better understanding of what career opportunities are available to them, the important roles they can play in society as engineers and what it takes to lead a successful professional life.
Fall 2014 Career Path Speakers Included:
Dan Diehl (B.S. '90, Mechanical Engineering), CEO, Aircuity
Kyle R. Carson (B.S., '08, Mechanical Engineering) Senior Engineer, Baltimore Gass and Electric
Kristin E. Kern (B.S., '12, Mechanical Engineering) Engineer I, Baltimore Gas and Electric
Chris Straight (B.S. '84, Mechanical Engineering), Director, Product Development, K2M, Inc.
Scot Johnson (B.S. '94, Mechanical Engineering) Co-Founder and Chief Executive Officer, i3solutions
Michael Branson (B.S. '94, Engineering) Chief Operating Officer, i3solutions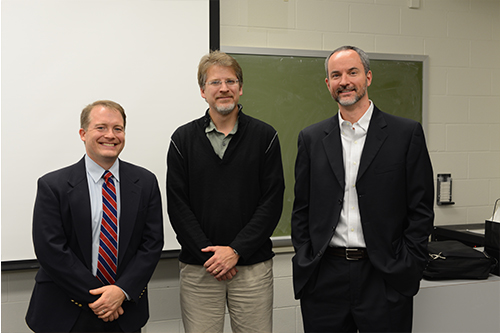 Kandice Fields (B.S. '10, Mechanical Engineering), Mechanical Design Engineer, W.L. Gore & Associates
If you are interested in participating in ENME 201 as a future Career Paths speaker, contact:
Kenneth Kiger, professor and director of undergraduate studies; kkiger@umd.edu
See more Career Path photos in our Mechanical Engineering Flickr album.
Published January 8, 2015