Alumni Sam B. Griffith ('11) Appointed Owner and President of National Jet Co.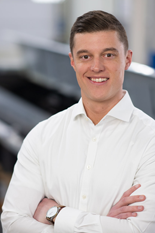 Mechanical Engineering alumni Sam B. Griffith, Jr. ('11) has been named owner and president of National Jet Co. National Jet Co. is an international leader in micro-hole drilling located in LaVale, Md.
After graduating from Maryland, Griffith worked as a senior project manager for Schindler Elevator Corp. before becoming a senior project manager, then vice president at National Jet Co.
As he has moved up through National Jet Co., Griffith mentioned that the skills he learned in Professor David Bigio's Six Sigma class have helped him greatly in his company roles.
Beyond National Jet Co., Griffith serves as a trustee of the National Tooling and Machining Association (NTMA), and closer to home, serves on the board of the Allegany County Chamber of Commerce.
In a Cumberland Times-News article, Griffith expressed excitement to see where technology is going to take the industry and he hopes to continually improve the company's processes and capabilities alongside it.
Griffith lives in Ridgeley, West Virginia, with his wife, Kelsey, and their 20-month-old daughter Lyla.
Published March 2, 2020