Alumnus Wins DARPA Young Faculty Award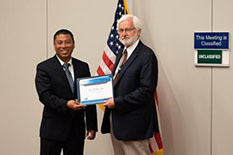 Hyung Bae, a UMD alumnus and assistant professor at Howard University, recently won the 2018 Defense Advanced Research Projects Agency (DARPA) Young Faculty Award to conduct research on polymer-based replicated multi-modal fiber Bragg grating (FBG) for Fentanyl detection. Bae, who earned his Ph.D. in Mechanical Engineering and studied under Professor Miao Yu, will receive $491,055 over the next three years for the project.
The research will focus on developing a remote sensing platform that can effectively detect Fentanyl and related toxins in a challenging environment. Because of its small size, the sensing platform can be used as a handheld device or mounted on a small drone. The platform can detect chemicals based on machine learning algorithms.
The award program aims "to identify and engage rising research stars in junior faculty positions at U.S. academic institutions and introduce them to Department of Defense needs as well as DARPA's program development process." DARPA is responsible for the development of emerging technologies for use by the military.
Published September 4, 2018