Alumnus Wins DOE Early Career Award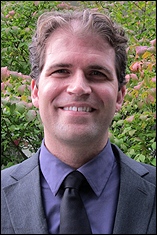 Mechanical Engineering alumnus Steven DeCaluwe (Ph.D. '09) was recently named a 2017 Department of Energy (DOE) Early Career Research Program recipient. This award is given through their Office of Science and supports the development of the individual research programs of engineers or scientists early in their careers.
DeCaluwe is now an Assistant Professor of Mechanical Engineering at Colorado School of Mines. Through this award, he will receive $750,000 to support his research in the development of novel neutron scattering experiments to improve functional polymers used in hydrogen fuel cells and lithium air batteries. This research aims to improve the efficiency of energy devices used in electric vehicles.
59 scientists were chosen from around 700 proposals for the award this year. Awards exist in various program areas, from energy sciences to nuclear physics.
"I'm incredibly and honored by this award from DOE, which is going to enable some truly groundbreaking neutron scattering work to identify and understand the role of functional polymers in electrochemical energy devices such as lithium-air batteries and PEM fuel cells," says DeCaluwe. "By conducting neutron scattering measurements during device operation, we will be able to study polymer surfaces and chemical gradients away from equilibrium. This, in turn, will let us identify rate-limiting processes and degradation mechanisms to ultimately improve device performance."
DeCaluwe has been at Mines since 2012, following a National Research Council postdoctoral fellowship at the National Institute of Standards and Technology (NIST).
During his time at Maryland, DeCaluwe researched cerium oxide as a catalyst in solid oxide fuel cells with both experimental work and mathematical modeling. His dissertation was advised by Gregory Jackson, who is also now a Professor at Mines.
"My experiences at the University of Maryland, in many ways, laid the foundation for this award, both in terms of the excellent, cross-disciplinary engineering education, and the training and mentorship that I received from my advisor Dr. Gregory Jackson," says DeCaluwe.
"The strong connections between UMD and NIST in Gaithersburg, MD, helped me get involved with the neutron scattering community, in the first place. I look back fondly at my time in Mechanical Engineering at UMD, and view it as a department truly invested in building the engineering leaders of tomorrow."
Published September 8, 2017