Amir Riaz Joins ME Faculty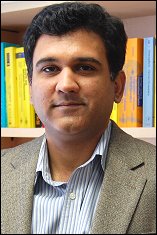 Dr. Amir Riaz will join the Clark School at the start of the spring semester as a tenure-track Assistant Professor of Mechanical Engineering in the Thermo-Fluid and Energy Sciences Division.
Riaz' research interests lie in the development of methods for perturbation analysis of interfacial instability in multiphase flow and numerical methods for quantifying the long-term nonlinear evolution of unstable flow structures. Specifically, his research has focused on studies of carbon dioxide sequestration and oil and gas reservoir management.
After receiving his Ph.D. from the University of California, Santa Barbara in 2003, Riaz continued his research with a post-doctoral position at Stanford. For the past year, Riaz has served as a Research Assistant Professor in the ME department. He holds numerous memberships in professional societies, including the American Society of Mechanical Engineers (ASME), the American Physical Society (APS), the American Geophysical Union (AGU), Society of Petroleum Engineers (SPE), the European Association of Geoscientists and Engineers (EAGE), and the Society of Industrial and Applied Mathematics (SIAM).
According to Riaz, he is very much looking forward to the prospects his new position will bring. "I see this position as a great opportunity to extend my work in exciting new directions with the help of brilliant graduate students here at UMD, which will help expand the frontiers of science in multiphase fluid mechanics," says Riaz. He adds, "I look forward to the opportunity of advancing knowledge in this field by working to establish a world class research effort based on a strong emphasis on interdisciplinary and collaborative research."
In the classroom, Riaz plans on connecting with the students in order to create an exciting and challenging learning environment. "My approach will be to engage the students in a process of motivational and creative learning by encouraging an attitude of critical reasoning and problem solving." His strategy includes, "demonstrating the application of foundational concepts to simple and clear yet challenging problems in everyday life and industry through both classroom instruction and interactive projects."
This semester, Riaz will co-teach ENME 331: Fluid Mechanics, with Professor Elias Balaras. In addition to teaching, he will be working on the development of a new graduate level computational multi-physics course. The proposed course will be designed to enable students to combine knowledge from the areas of fluid dynamics, heat and mass transfer, and reaction effects into an integrated simulation framework.
Published January 22, 2010