Ashwani Gupta Receives Outstanding Research Award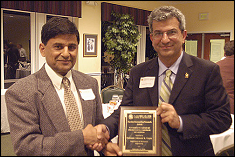 On September 13, 2006 Professor Ashwani Gupta received the University of Maryland College of Engineering Outstanding Research Award. This award was instituted by the Clark School to recognize exceptionally influential research accomplishments by its faculty. The award recognizes Professor Gupta's outstanding contributions to the field of combustion with singular success for energy savings and pollution reduction. In recent years Professor Gupta's work has gained much popularity in the international technical community for his work on the fundamental and applications of High Temperature Air Combustion (HiTAC). He showed environmentally benign green flame using hydrocarbon fuels. He also showed flameless oxidation of fuels (colorless flame) with near uniform thermal field in the entire burning zone. His co-authored book on
"High Temperature Air Combustion: From Energy Conservation to Pollution Reduction"
published by CRC press in 2003 is now in its 3rd printing. The HiTAC technology has been used in many countries worldwide with significant energy savings and pollution reduction from industrial furnaces. He is currently developing this technology for stationary gas turbine combustion application and also fuel reforming of solid wastes to clean hydrogen-rich syngas with support from the
Office of Naval Research (ONR)
. He has given many plenary and invited keynote lectures at several international conferences. His work has brought high distinction to him as a preeminent leader in the field of high temperature air combustion technology and has brought high credit to the Clark School and the university as a whole.
Professor Gupta also received the Sustained Service Award from the International Conference Incineration and Thermal Treatment Technologies (IT3) held in Savannah, GA in May 2006.
Published September 13, 2006