Ashwani K. Gupta Elevated to SAE Fellow Status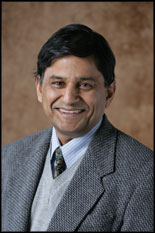 Professor
Ashwani K. Gupta
has been elevated to SAE Fellow status by
SAE International
.
SAE Fellowship status
is the highest grade of membership bestowed by SAE International. It recognizes outstanding engineering and scientific accomplishments by an individual that have resulted in meaningful advances in automotive, aerospace, and commercial-vehicle technology.
The program, established in 1975, recognizes an average of only 20 worldwide recipients for this honor each year. His honor is shared in the department by Professor Emeritus David Holloway.
Gupta will receive the award recognition during the Honors Convocation on Tuesday, April 15, 2008, at the SAE 2008 World Congress in Detroit. Gupta was recently appointed Distinguished University Professor by the University of Maryland in January, and will be recognized by the Department for both awards at the Mechanical Engineering Department's Faculty Recognition Dinner on May 14 from 6pm to 9pm at The Samuel Riggs IV Alumni Center.
Last year Gupta was elected Director-Technical of the Propulsion & Energy Group of the American Institute of Aeronautics and Astronautics (AIAA) and continues to serve on the AIAA Board of Directors. In September 2006, Gupta received the University of Maryland College of Engineering Outstanding Research Award. In 2003, he was also awarded the University of Maryland President Kirwan Research Award. He has also been awarded the American Society of Mechanical Engineers George Westinghouse Gold Medal, James N. Landis Medal and the James Harry Potter Gold Medal, all for his distinguished or eminent achievement in mechanical engineering sciences. He has also received the Propellants and Combustion as well as the Energy Systems awards from the American Institute of Aeronautics and Astronautics.
Gupta is internationally known as the father of a new innovative combustion technology called "High Temperature Air Combustion" (HiTAC). The HiTAC principles involve a new combustion regime that results in a green-colored flame or colorless, distributed flame, which is now used in industry for significant energy savings and pollution reduction. He has published over 450 technical papers, three books, nine edited books and eight book chapters.
He has been a faculty member in the Department of Mechanical Engineering at the University of Maryland, College Park since 1983, following six years at MIT as a member of the research staff in the Energy Laboratory and Department of Chemical Engineering, and three years at Sheffield University in England as an independent research worker and research fellow in the Department of Chemical Engineering and Fuel Technology. He has over 35 years of experience in combustion engineering since his Ph.D. from Sheffield University in 1973. He was awarded a higher doctorate D.Sc. from Sheffield University in 1986 for his published high-quality original research work. He is a Fellow of the American Institute of Aeronautics and Astronautics, the American Society of Mechanical Engineers, Society of Automotive Engineers, and the Institute of Energy [U.K.], and Member of the Combustion Institute.
Published April 8, 2008