Assistant professor, students win best paper award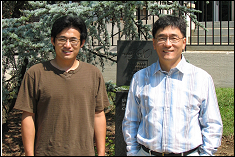 ME assistant professor
Byeng Dong Youn
and graduate students Pingfeng Wang and Zhimin Xi have won the
ASME Design Automation Conference
Best Paper Award.
In a decision made by the conference award committee, Dr. Youn and his students will be presented with the award at the ASME conference, August 3-6 at the New York Marriott at Brooklyn Bridge. The Design Automation Conference is part of the 2008 Design Engineering Technical Conferences & Computers and Information in Engineering Conference.
The three will receive the award for penning a paper titled "Bayesian Reliability Analysis with Evolving, Insufficient, and Subjective Data Sets." The paper examines creating a model of reliability prediction using evolving, insufficient and subjective engineering data sets created due to a lack of resources – for example, time, money or facilities.
"We refer the data which are not static but evolve with time as 'evolving data,' refer the data which are not sufficient to fully characterize random behavior as insufficient data and, similarly, refer the data which are pertaining to or perceived only by individuals as subjective data," Youn said. "It has been applied to a practical vehicle door design problem, which has two primary design constraints by door closure effort and occupant safety against a side crash."
Dr. Youn and his students completed the research with the backing of the National Science Foundation, Grant Opportunities for Academic Liaison with Industry and General Motors. A research contract with Whirlpool is currently being discussed as well.
Published July 17, 2008