Associate Professor Don DeVoe Issued Patents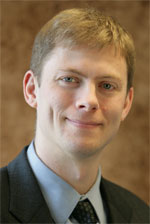 Associate Professor of Mechanical Engineering and core faculty member of the Bioengineering Program
Don DeVoe
was recently issued several U.S. Patents for his technologies developed in conjunction with Calibrant Biosystems.
Patents titled "Plastic Microfluidics Enabling Two-Dimensional Protein Separations in Proteome Analysis," "Two-Dimensional Microfluidic Gene Scanner," and "Microfluidic Apparatus for Performing Gel Protein Extractions and Methods for Using the Apparatus" were approved in 2006. The technologies were developed by DeVoe and Dr. Cheng S. Lee, Associate Professor in the Department of Chemistry and Biochemistry in the College of Chemical and Life Sciences.
The technology patents address various aspects of multidimensional microfluidic platforms for analyzing biomolecules such as DNA and proteins with higher processing speed than previously available using single-dimensional technologies. DeVoe's two-dimensional protein separation technology is designed to allow complex protein samples to be analyzed in about fifteen minutes, compared with a full day using standard methods.
Dr. DeVoe is faculty director of the Maryland Microfluidics Laboratory and Center for Microengineering, with a research focus in nanofluidics and lab-on-a-chip technologies for biochemical analysis. He is a recipient of the National Science Foundation's Presidential Early Career Award for contributions to microsystems technology.
Dr. DeVoe received his Ph.D. in Mechanical Engineering from the University of California, Berkeley, in 1997. He is a co-founder of Calibrant Biosystems, an emerging biotechnology company focused on protein biomarker discovery from limited human tissue samples using microfluidics technology.
Published February 7, 2006