Azarm Awarded Prestigious ASME Award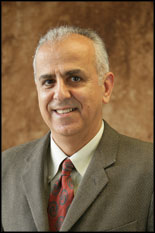 Professor of Mechanical Engineering
Shapour Azarm
at University of Maryland, College Park, will be the recipient of the 2007
Design Automation Award
by the
Design Automation Committee
of the
American Society of Mechanical Engineers
(ASME).
"The Design Automation Award is granted from time to time but no more than once each year to recognize sustained meritorious contribution to research in Design Automation. This award is only given after the recommendation of 75% of the members of the Honors and Awards Technical Subcommittee." It was reported that in the case of Prof. Azarm the vote of the H&A committee members for granting this award to him was unanimous.
The citation for the award will read: "For his sustained and meritorious contributions to research in Design Automation, specifically in computational design optimization and engineering design decision making."
The award will be given to Professor Azarm during a conference dinner of the ASME International Design Engineering Technical Conferences (IDETC) which will be held in Las Vegas, Nevada, during September 4-7, 2007.
Published July 16, 2007