C. Dan Mote, Jr. to Receive 2020 Benjamin Franklin Medal in Mechanical Engineering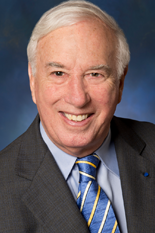 The Franklin Institute announced Regents Professor and Glenn L. Martin Institute Professor of Engineering C. Dan Mote, Jr. as one of just eight members named to the Franklin Institute Awards Class of 2020. Mote will receive the 2020 Benjamin Franklin Medal in Mechanical Engineering during The Franklin Institute Awards Week—April 27–30, 2020.
Mote was recognized for his "outstanding contributions, through application of theory, analysis, and inventive experimentation, to the understanding of the dynamics of practical systems such as saws, skis, and conveyor belts, thereby increasing their safety, efficiency, and economy."
From sawmills to ski slopes, The Franklin Institute highlighted his "early research on rotating disc stability, which transformed sawing technology while reducing wood waste, has been applied to drive belts, computer disks, and other "axial moving materials." Skiers can trace the origins of the parabolic "shaped ski" and quick-release bindings to Mote's research on skiing biomechanics—he was the first to measure the forces that skiers experience on their lower legs and knees."
Mote served as the president of the University of Maryland from 1998 to 2010 and is president emeritus of the National Academy of Engineering, a role he held from 2013 to 2019.
As a Franklin Institute Awards recipient, Mote joins the ranks of some of the most celebrated scientists of the past two centuries from Nikola Tesla and Thomas Edison to Stephen Hawking and Jane Goodall.
Through its Awards Program, The Franklin Institute seeks to provide public recognition and encouragement of excellence in science and technology. In its 196th year, the institute's awards pay tribute to the institute's namesake and America's first great scientist, Benjamin Franklin, by honoring the greatest minds in science, engineering, and industry.
Published January 27, 2020