CALCE Tech Innovation Honored by NSF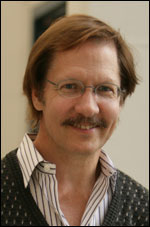 The National Science Foundation (NSF) has awarded the Clark School's Center for Advanced Life Cycle Engineering (CALCE) its Alexander Schwarzkopf Prize for Technological Innovation.
The Schwarzkopf Prize is awarded to former and current NSF Industry/University Cooperative Research Centers that have had a significant impact on the world. CALCE won the award for its research on physics-of-failure reliability analysis methods and advanced supply chain management concepts for electronic products and systems.
CALCE started as a National Science Foundation Center in 1985 and has evolved into a center that is funded by over 150 of the leading international electronics companies and organizations that provide over $6 million per year for research. The reliance of modern technologies on complex electronics poses significant and growing challenges to managing life cycle risks.
"From the annoyed customer at the ATM or the business traveler on a delayed flight, to dangerous malfunction of automobiles or the loss of $100 million satellites and aircraft, failure to adequately manage the life cycle of electronic systems touches everyone," says George Dieter Chair Professor Michael Pecht, founder and director of CALCE.
In the field of reliability analysis and qualification, CALCE processes and models have become standardized for physics-of-failure based analyses of electronic systems. CALCE's achievements in reliability analysis and qualification include the concept of organizational reliability as the measure of the effectiveness of an organization's reliability program in terms of meeting customer requirements.
A range of industries, including aerospace, automotive, household, industrial, medical, and telecommunication, actively use CALCE software and accelerated testing approaches.
CALCE has made significant contributions in:
Design for Reliability and Physics-based Reliability Assessment
Accelerated Test Methods
Industry Standards Development
Electronics Supply Chain Management
Reliability Analysis and Qualification
Life Cycle Management and Obsolescence Management
Prognostics and Health Management
More information on CALCE can be found at http://www.calce.umd.edu
Published January 12, 2009