CEEE Kicks Off ARPA-e Advanced Heat Exchangers Project.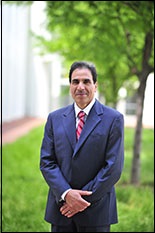 Led by Prof. Michael Ohadi, UMD was recently awarded a research project sponsored by ARPA-e on a project dealing with impact of additive manufacturing on design of advanced heat exchangers for enhanced air-side heat transfer. The proposed research will take advantage of the latest developments in heat transfer surface enhancement and flow management (fluid delivery and discharge), coupled with the use of the emerging additive manufacturing (AM) and/or other advanced techniques that can radically enhance air-side heat transfer.
The specific objective of the proposed research is to develop next-generation air-cooled heat exchangers that can operate in dry or hybrid mode and substantially reduce (or eventually eliminate) the cooling water consumption in condenser cooling of steam electric generation plants. Non-UMD collaborators on this project include Michigan Technological University, Boeing Research and Development, Baltimore Air Coil Company and Honeywell Aerospace division, and the Trane Company which will participate in the project in an advisory role.
Published August 11, 2014