Christou Receives ASM Award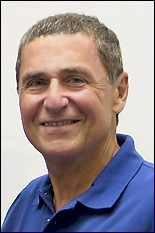 Professor Aris Christou (materials science and engineering, mechanical engineering, and reliability engineering) is the winner of the 2006-2007 ASM International George Kimball Burgess Memorial Award. The award will presented April 10 at ASM International's Washington, D.C. chapter meeting in Bethesda, Md. Christou, who conducts research in compound semiconductor materials and process science, radiation effects in materials and devices, manufacturing science, and reliability, was cited "[f]or seminal scientific contributions in the fields of electronic materials, packaging, and devices."
The George Kimball Burgess Memorial Award was established in 1941 by the Washington, D.C. Chapter of the American Society for Metals as a tribute to Dr. Burgess in appreciation of his outstanding contributions to the science of metallurgy. The award is given to a member of the chapter in recognition of outstanding achievement in research or administration and for original contributions to the fields of metallurgy, materials, or mechanics; or to a member who has demonstrated outstanding leadership in those fields within the 5 year period prior to the award. The Burgess Award is the highest award for scientific achievement given by the D.C. chapter.
Professor Christou is a former chairman of the Department of Materials Science and Engineering, former director of the Center of OptoElectronic Devices, Interconnects and Packaging (COEDIP), a Fellow of the Institute of Electrical and Electronics Engineers (IEEE), a Fullbright Fellow, and the current president of the Washington, D.C. Federation of Materials Societies. Last summer, in conjunction with MSE Professor S. Ankem, ASM, the National Association of Corrosion Engineers (NACE) Foundation and the National Science Foundation's Division of Materials Research, he hosted the Clark School's first Materials Camp, a four-day program for high school educators about teaching fundamental materials science and using applied engineering demonstrations in the classroom.
Published March 28, 2007