Clark School Alumnus to Compete in Infiniti's 'Next Formula One Engineering Star' Challenge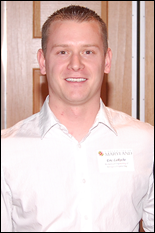 Clark School alumnus Eric LaRoche will compete in Infiniti's 'next Formula One engineering star' challenge. LaRoche is one of 12 individuals selected from over 1,500 international engineering students to compete for an Infiniti dream job—a 12-month engineering role with Infiniti Red Bull Racing, complete with accommodation in the United Kingdom, Infiniti company car and full salary.
The competitors will attend a three-day shootout event in the United Kingdom before the British Grand Prix, taking place at Infiniti's European Technical Center at Cranfield and at Infiniti Red Bull Racing's factory in Milton Keynes. Over the three days they will face a series of intensive interviews, practical tests and technical challenges, closely assessed by leading technical figures from Infiniti and Infiniti Red Bull Racing. Infiniti Red Bull Racing's Chief Technical Officer Adrian Newey will unveil the three winners on July 3, 2014.
LaRoche, 25, from Hamilton Square, N.J., studied both Mechanical and Aerospace Engineering at the University of Maryland, and he has served as lead aerodynamicist with UMD's Terps Racing Formula SAE team, has gained experience with Chrysler's Viper GTS-R team in the American Le Mans Series as well as time working at aviation giant Boeing.
In Infiniti's press release, Adrian Newey, Chief Technical Officer, Infiniti Red Bull Racing, said, "The Infiniti Performance Engineering Academy is an exciting initiative for young engineering students to become inspired and realize their dream of working in the pinnacle of motorsport, Formula One. Judging by the applications submitted, it is great to see so much passion and enthusiasm from our engineers of the future."
Published July 1, 2014