Clark School Celebrates Hard-Working Staff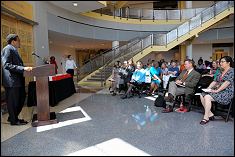 On May 9, 2011, in the rotunda of the Jeong H. Kim Engineering Building, the A. James Clark School of Engineering held its annual Staff Appreciation Event. Hosted by Dean Darryll Pines, the event recognized the skill, commitment and spirit of Clark School staff members.
Dean Pines noted that employees not only do good work, but also do "good works" that inspire other staff members and himself to go the extra mile for students, faculty members, visitors, and each other.
George Syrmos, executive director of the Office of Advanced Engineering Education, described the progress he has witnessed at the Clark School during his 20 years here.
"I have been fortunate to see the Clark School advance and to lead a great team that has contributed to its success. We have expanded our professional education programs, moved into web-based delivery, and attracted many more students. My experience here has been very rewarding both professionally and personally."
Naji Hammad, coordinator for the Engineering Copy Center, added, "We have made the copy center into a resource for the Clark School and the entire university, with the latest technologies and great service. And at the same time I have been able to finish my degree in computer science and to take on some additional responsibilities with the Engineering Information Technology department. The center and I have come a long way!"
Jane Fines, director of Undergraduate Recruitment and Special Programs and a staff member for 20 years, said, "I've been able to take on new and more responsible roles here, and that's satisfying. I've also seen our scholarship program grow and help more students, thanks in large part to the gifts of A. James Clark. And we've come a long way in international programs, with more and more students going abroad."
At the close of the event, the dean congratulated Sharon Hodgson, who was awarded the Dr. Marilyn Berman Pollans Outstanding Service Award for Staff at the December commencement. Guests enjoyed a dessert reception after the ceremony concluded. A list of Clark School staff members who were honored at the event follows.
Dr. Marilyn Berman Pollans Outstanding Service Award for Staff
Ms. Sharon Hodgson
Fire Protection Engineering
Clark School Staff Members with Service of 35, 30, 25, and 20 years
Civil and Environmental Engineering
Janet L. Alessandrini – 25 years
Clark School Dean's Office
Maureen L. Meyer – 35 years
George Syrmos – 20 years
Naji S. Hammad – 20 years
Jane F. Fines – 20 years
LaWanda S. Kamalidiin – 20 years
Electrical and Computer Engineering
Dolores A. Harris – 30 years
Maria C. Hoo – 20 years
Maryland Technology Enterprise Institute
Cindy L. Gilbert – 25 years
Materials Science & Engineering
Vincent G. Adams – 25 years
Ginette Villeneuve – 20 years
Mechanical Engineering
Joanyuan E. Lee – 20 years
Clark School Staff Members with Service of 15, 10, and 5 years
George Dearstine, Jr. – 15 years
James Zahniser – 15 years
Joseph Belew – 10 years
Tamara Hamilton – 10 years
Cherrie Hughes – 10 years
Alexis Jenkins – 10 years
JoAnne Kagle – 10 years
Althia Kirlew – 10 years
Jay Renner – 10 years
Paula Beaver – 5 years
Bruk Berhane – 5 years
Melissa Corley – 5 years
Kimberley Edwards – 5 years Kerri Popplar-James – 5 years
Edmund T. Knight – 5 years
Faye Levine – 5 years
Maritza Montelara – 5 years
Lisa Perez – 5 years
Ruth Rencher – 5 years
Caron Wildy – 5 years
Daniel Wysling – 5 years
New Clark School Staff Members
William Barnes – Director, Maryland Technology Enterprise Institute
Carolyn Flowers – Administrative Assistant I, Electrical and Computer Engineering
Tamara Fuller – Coordinator, Successful Engineering Education and Development Support (SEEDS) Program, Women in Engineering Program
Diane Hicks – Coordinator, External Relations
Jermaine Jackson – Academic Advisor, Electrical and Computer Engineering
Kia Johnson – Payroll Coordinator, Electrical and Computer Engineering
Chris Jones – Accounting Associate, Civil & Environmental Engineering
John Kerwin – Manager, Maryland Technology Enterprise Institute
Bria McElroy – Assistant Director, Women in Engineering Program
Ron Noble – Administrative Assistant II, Fischell Department of Bioengineering
Jahmal Rich – Specialist, Maryland Technology Enterprise Institute
Jay Smith – Associate Director, Maryland Technology Enterprise Institute
Deborah Thompson – Administrative Assistant II, Fischell Department of Bioengineering
Laura Thorsen – Accounting Associate, Aerospace Engineering
Jaclin Warner – Coordinator, Maryland Technology Enterprise Institute
Dawn Wheeler – Research Coordinator, Institute for Systems Research
Christina Wilson – Accounting Associate, Electrical and Computer Engineering
Photos by Al Santos
Published May 12, 2011