Clark School Senior Wins Schlumberger Intern Video Contest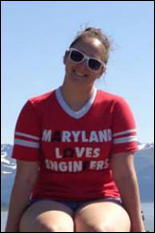 Department of Mechanical Engineering senior Haley Crock won Schlumberger's intern video contest with her short film, "Schlumberger: Take the Blue Pill." The film documented her six-week summer internship in Alaska working for the company as a field engineer intern on oil pipelines around Prudhoe Bay.
Crock's internship started with a 10-day training program in Kellyville, Okla. with 43 other interns Schlumberger selected to work on projects across the country. Once training in Oklahoma was completed, Crock was sent north to Alaska to work with crews across the North Slopes in Schlumberger's Well Services – Cementing segment. During her two three-week 'hitches' on the slopes, Crock worked on over 20 jobs and completed two projects, which included designing a vacuum system equipment operators could use to clean out dry cement silos.
When the company announced early in the internship that there would be a video contest for interns, Crock said, "I knew I wanted to enter it. I've made videos in my free time for fun, so I knew that a great way to share some of my experiences from the summer and get new students excited about the possibility of an internship with Schlumberger was to show them what a great time I had."
Schlumberger describes their internships as an "outdoor 24-hour, 365-day work environment, where long hours under pressure and dirty hands are to be expected." Crock humorously features her frequently filthy state in the video, stating "[I] seriously don't know how I attract so much dirt," and points out 'Fatigue Management' as just another skill to be worked on.
While not shirking from showing the hard work Crock and her fellow interns put in on the pipeline, the film also highlighted the camaraderie, natural wonder, and fun of being in Alaska with Schlumberger.
Crock's film was one of 10 videos submitted for the summer intern program, and her video was selected as one of the top three finalists. The winning videos were shown to company Presidents and Vice Presidents at a final networking session during the internship's wrap-up week in Houston, Texas.
"[I] was able to able to explore an industry that I'd never before considered," said Crock, "[By being in Alaska] I was able to experience several types of jobs that interns in the same segment down in the 'lower 48' states did not get to experience."
To learn more about internships with Schlumberger, visit their website.
To find out about other internships that might be available, visit Mechanical Engineering's 2013 Career Fair.
Published September 10, 2013