Congratulations to Mechanical Engineering's 2020 Honors and Awards Recipients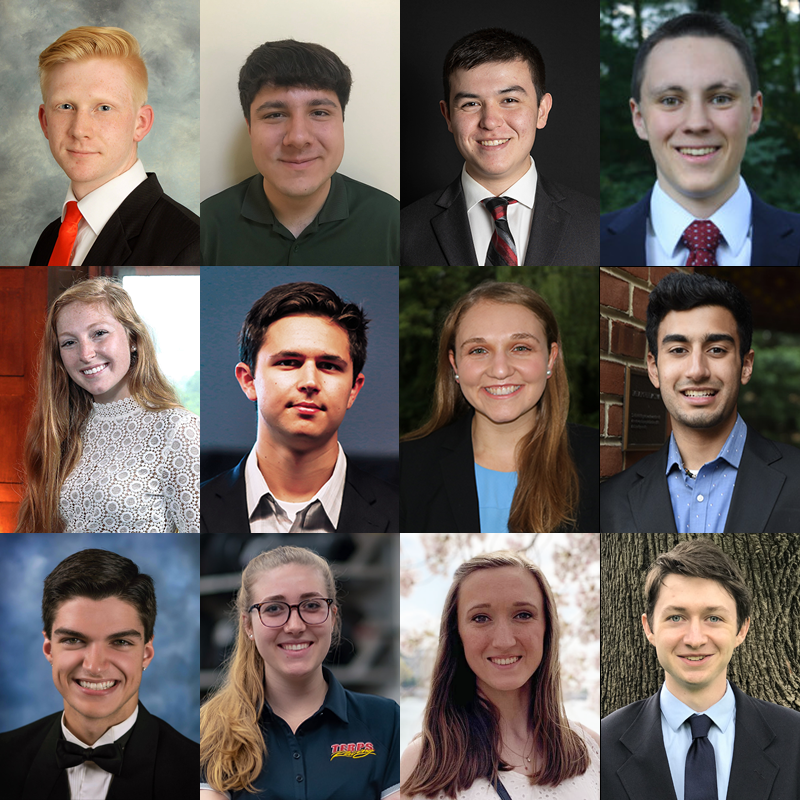 The Department of Mechanical Engineering would like to congratulate all of this year's honors and awards recipients recognized for their outstanding scholarship and commitment to service and leadership.
Department of Mechanical Engineering 2020 Honors and Award Recipients
The Academic Achievement Awards are presented to juniors in Mechanical Engineering who have excelled academically to obtain a cumulative grade point average of 4.0.
Awarded to Daniel Kirchner, John Lathrop, and Robert Nawrocki
The Chairman's Awards are presented to graduating Mechanical Engineering seniors for excellence in academics, outstanding service to the department, or outstanding leadership in the department.
Awarded to Kristen Edwards, Charles Grody, Hannah Lobell, Syed Taqui Mahmood, Nathan Raver, Jessica Rosenthal, Mary Smith, and Thomas Streett
Dean's 2020 Awards and Honors
The A. James Clark School of Engineering Leadership Award is presented to a student who has demonstrated outstanding leadership to the Clark School in activities that impact all engineering majors.
The A. James Clark School of Engineering Dean's Award is presented to a senior for scholastic excellence and demonstrated outstanding service and leadership to the Clark School of Engineering.
Awarded to Kristen Edwards
Engineering Career Services 2020 Honors and Awards
The Outstanding Engineering Co-op/Intern Award is presented to selected students who have demonstrated exceptional work performance, strong academic achievement, and remarkable potential for a successful career while participating in a cooperative education or internship opportunity.
Awarded to Garrett Greenwell
About the Awardees
Garrett Greenwell is a senior who interned at MC Dean. According to his supervisor, Garrett went well above what is expected of an intern, making the workload for his team more manageable. In fact, Garrett was recently in charge of closing a $2.5 million job. This level of responsibility is rarely given entry-level engineers much less interns. Garrett is a very determined and utilizes a range of skills from critical thinking to interacting with people in the field. We hired 11 interns, but only invited two to work throughout the year, and Garret was one of them.
Daniel Kirchner is a junior with a 4.0 GPA. He is a member of Tau Beta Pi Engineering Honor Society. Daniel works in the Bioinspired Advanced Manufacturing Lab at the University of Maryland (UMD) under Dr. Ryan Sochol. In the lab, he leads a research team on a project for the United Sates Navy.
John Lathrop is a junior double major in mechanical engineering and math with a 4.0 GPA. In Engineers Without Borders, he is the Tanzania project lead where he leads a team to improve water filtration systems at rural health clinics. He has served as a teaching fellow for the Dynamics course in the Keystone Program. John is an undergraduate researcher in the Collective Dynamics and Controls Lab and a nuclear reactor operator at the UMD Radiation Facilities. In his free time, he enjoys training for and racing triathlons as the president of UMD Club Triathlon.
Robbie Nawrocki is a junior with a 4.0 GPA. He was a member of the Virtus Men in Engineering Living and Learning Community and is in the University Honors program. He currently works as an undergraduate research assistant in the Alfred Gessow Rotorcraft Center and previously worked as an undergraduate teaching fellow for the Computing Fundamentals for Engineers course in the Department of Mechanical Engineering. Robbie has accepted an offer for an internship this summer at Boeing working in Thermoplastic Composite Materials and Fabrication.
Kristen Edwards is a senior with a 3.98 GPA. She is a Banneker/Key Scholar, a member of the University Honors program, and a researcher in the Bioinspired Advanced Manufacturing Lab. She is the winner of the Spirit of Maryland Award, as well as a member of the Omicron Delta Kappa Leadership Society, Tau Beta Pi Engineering Honor Society, Theta Tau, and Alpha Omicron Pi. Kristen has been accepted to MIT, UC Berkeley, and Carnegie Mellon University to pursue a Ph.D. in which she aims to advance sustainable energy through machine learning and mechatronics.
Charles Grody is a senior with a 3.7 GPA. He is a member of QUEST, the Entrepreneurship and Innovation program, and founder of the water conservation startup Hydraze. He won the 2019 Do Good Challenge Venture category pitching Hydraze's stall-latch activated automatic flushing product, which could save thousands of gallons of water per toilet annually by eliminating unnecessary "phantom flushes" generated by existing flushing products. Charles has accepted a full time offer to work at ExxonMobil after graduation.
Hannah Lobell is a senior with a minor in engineering leadership development. She served as the president of the Flexus Living and Learning Community during her sophomore year and is now currently chair of the Women in Engineering Student Advisory Board and the vice president of the Society of Women Engineers. Hannah is also a Clark School and Mechanical Engineering Ambassador, a sister of Alpha Omega Epsilon, a SEEDS mentor, and a member of the RISE program. After graduation, she will begin an operations leadership development program with Medtronic.
Taqui Mahmood is a senior minoring in project management, and a 3-time awardee of the Office of Multi-ethnic Student Education (OMSE) Excellence award. He has served as president of the American Society of Mechanical Engineers since 2018, and serves as junior vice president for the mechanical engineering honors society, Pi Tau Sigma. Taqui has held executive roles with Engineers Without Borders where he travelled to Nicaragua for an assessment trip, Pi Sigma Epsilon, a professional business fraternity, and the UMD Model United Nations. After graduation, Taqui plans to enter the workforce before pursuing a graduate degree.
Nathan Raver is a senior who has spent all four years in the Center for Engineering Concepts Development, with a focus in engineering for social change. This included examining the social aspects and unintended consequences of engineering design. He also conducted research in electronic waste, which was published in the book, "The True Cost of E-Waste: Current Issues in Electronic Waste." In his service to the department, Nathan has helped organize and coordinate annual fundraising events in which proceeds would go towards departmental scholarships.
Jess Rosenthal is a senior with a minor in computer engineering. She is a graduate of the Entrepreneurship and Innovation Honors Program, where she was introduced to UMD's Dingman Center for Entrepreneurship. Through The Dingman Center, Jess became an inaugural member of Ladies First Founders, a program that strives to build a community of women in entrepreneurship. Currently, Jess is the team captain and project manager for Terps Racing's Formula Internal Combustion Engine vehicle. She leads a team to design, build, and race a formula-style car.
Mary Smith is a senior in the University Honors and QUEST Honors programs. She is the president of Pi Tau Sigma, vice president of the American Society of Mechanical Engineers, the Mechanical Engineering Alumni Cup Team Captain, an undergraduate teaching fellow for Mechanics I and Thermodynamics, and a Top Clark School Ambassador. She is also a member of Tau Beta Pi, Omicron Delta Kappa, Alpha Omega Epsilon, the Society of Women Engineers, and Terrapin Tap Troupe. After graduation, Mary will be a mechanical engineer at Oceaneering in Hanover, MD.
Thomas Streett is a senior with a 4.0 GPA. Thomas is a member of the Alpha Gamma Rho agricultural fraternity. In his free time, Thomas likes to hunt waterfowl, fish, and go backpacking. After graduation, Thomas plans to invest in buy and hold real estate, become financially free by 30, and then spend the remainder of his career fighting climate change in the offshore wind industry.
Published May 14, 2020