Course brings students to South Korea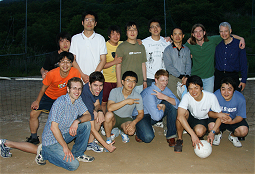 "It was a once in a lifetime experience."
Fitting a semester's worth of work into just two weeks isn't usually a recipe for fun.
Unless, of course, those two weeks are spent meeting new people, trying exotic foods, learning new games and exploring a foreign country.
Five ME graduate students, plus teaching assistant Jiazhen Ling, recently traveled to South Korea to take a two week course co-taught by ME professor Reinhard Radermacher at Pusan National University (PNU).
ME graduate student Ethan Lust said that the two week course, while taxing due to frequent long days in the classroom, gave the students an opportunity to explore a foreign culture. The class combined the five ME students with 12 students from PNU, and Lust said the South Korean students showed the students from Maryland around Pusan during their time outside the classroom.
"In the evenings we played basketball and went out to dinner with them; they took us to a baseball game" Lust said. "We didn't go quite as tourists – we were their long enough and immersed long enough that we saw a side of South Korea we would have never seen."
On the weekends, the students spent their time outdoors. The first weekend was spent hiking Mt. Hallasan on Jeju Island, the highest mountain in South Korea. The following weekend, the students trekked the mountains on the land behind the university.
In addition to the long hours on the trail, the students also learned a new game – choku. Lust described choku as volleyball played on a tennis court with a soccer ball, with participants only allowed to use their feet and heads to put the ball over the net.
Through the course, Lust said the students got a unique opportunity to come into contact with and learn about a foreign culture and locale.
"It was a once in a lifetime experience," Lust said.
Published July 3, 2008