Cuddalorepatta & Mohaghegh Both Earn Amelia Earhart International Awards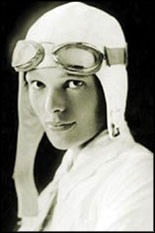 Congratulations to
Mechanical Engineering
Ph.D. candidate Gayatri Cuddalorepatta and
Reliability Engineering
Ph.D. candidate Zahra Mohaghegh for both earning a 2007-2008
Amelia Earhart International Award
in recognition of and support for their doctoral research.
Cuddalorepatta is advised by Professor Abijit Dasgupta, and her research seeks to facilitate the elimination of lead from electronics. The focus of her research is the in-depth understanding of micro- and nanoscale damage accumulation mechanisms in lead-free solders. Her research has received numerous honors like the Future Faculty Fellowship Award and a best student presenter award at the spring 2007 CALCE technical review meetings.
Ms. Mohaghegh is advised by Professor Ali Mosleh. Her work extends the domain of complex systems modeling beyond the traditional scope, to also include, in a formal way, the human and organizational environments of the system in development and in operation. Such integration required a truly multi-disciplinary systems approach, brining engineering, social, and behavioral science perspectives together under a unified modeling scheme, founded on relevant theories and observations.
The award is granted annually by the Zonta International Foundation to highly qualified women pursuing a Ph.D. or doctoral degree in aerospace related sciences and engineering. The award will be presented by the Zonta district of Mid Atlantic North America this summer.
Zonta International is a global service organization of business and research professionals working together to advance the status of women all over the world. Nearly 33,000 members belong to more than 1,200 Zonta Clubs in 68 countries and geographic areas. As an international non-governmental organization (NGO), Zonta brings women's concerns to the United Nations, suggesting solutions and bringing public awareness to issues. Amelia Earhart Fellowships are made possible by contributions to the Zonta International Foundation Amelia Earhart Fellowships Fund.
Published April 26, 2007