Dale Family Creates Four-Year Scholarship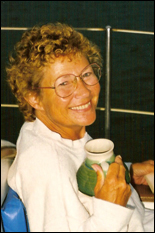 The family of Mickey Dale has created a four-year scholarship in her memory to help recruit talented freshmen majoring in mechanical engineering, bioengineering, electrical engineering or computer engineering. Dale was a University of Maryland University College employee and the wife of a Clark School alumnus.
Recipients who stay an extra year to obtain a Master's degree would continue to receive funding.
Dale and her husband, Bruce (B.S. '64 and M.S. '67, mechanical engineering), met and were married while he was a student on campus. Bruce Dale and their children, Chris and Jennifer, founded the Mickey Dale Family Foundation to create a family legacy of charitable giving in honor of Mickey's selfless spirit.
The foundation has pledged $150,000 to fund the scholarship in Mickey's honor "to provide a helping hand to a student in engineering who otherwise might not be able to afford the chance."
To learn more about the Great Expectations campaign and how you can make a difference in the Clark School's progress, please contact us.
Published August 2, 2007