Das Named Editorial Board Member of Nature's Scientific Reports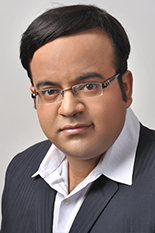 Mechanical Engineering Assistant Professor Siddhartha Das was named to the editorial board of Nature's Scientific Reports in the Fluids and Plasma Physics category. Scientific Reports recruits Editorial Board Members for an initial two-year term, and their principal responsibilities are to manage the peer review of manuscripts and make editorial decisions that comply with the editorial criteria of the journal.
Das joined the University of Maryland's Department of Mechanical Engineering in March 2014 and currently heads the Soft Matter, Interfaces and Energy Laboratory (SMIEL).
He received his Ph.D. from the Indian Institute of Technology Kharagpur in 2010 in the area of theoretical microfluidics. Following his Ph.D., Das joined the Physics of Fluids Group at the University of Twente, the Netherlands as a postdoc and worked on surface nanobubbles, capillarity and soft wetting. Das then went on for his second postdoc in the Department of Mechanical Engineering, University of Alberta, Canada. In Alberta, Das received the Banting Postdoctoral Fellowship, the most prestigious postdoctoral fellowship of Canada.
Das' research interests span different areas of micro-nanoscale fluid mechanics and interactions of soft matter with fluid mechanics. He is particularly interested in understanding issues such as the wetting of a soft solid, electrohydrodynamics past a soft interface, wetting of 2-D materials and nanocellulose, and thermo-fluidics associated with additive manufacturing like 3D printing.
Das has authored more than 80 journal publications, including publications in journals such as Proceedings of the National Academy of Science USA, Nature Communications, Advanced Materials, Physical Review Letters, Physical Review E, Physics of Fluids, Soft Matter, Journal of Chemical Physics, Journal of Applied Physics and Scientific Reports. His research has attracted wide visibility and recently The New York Times published a story based on his research on wetting of liquid drops on soft surfaces.
Das joins fellow Mechanical Engineering Professor Bao Yang, who is also a member of Scientific Report's editorial board.
Scientific Reports launched in 2011 as a multidisciplinary, online-only, open access publication to publish papers judged to be technically sound and scientifically valid.
Published January 31, 2017