Department Well-Represented at OTC Invention Awards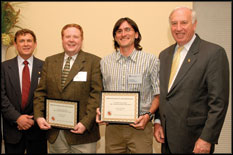 Professors
Amr Baz
and
Patrick McCluskey
were among the top three finalists in the Physical Science Invention of the Year Award at the University of Maryland
Office of Technology Commercialization
(OTC) 20th Annual Invention of the Year Reception held on April 19.
Mechanical Engineering
invention submissions comprised about a third of the entrants in the Physical Sciences category.
McCluskey's research with Pedro Quintero on the "Transient Liquid Phase High Temperature Solder Paste Attach" gained top recognition in the Physical Science category. In the same category was top-finalist research in "Integrated Sensor Monitoring the Allowable Heat Exposure Time for Firefighters," by Amr Baz and Marino DiMarzo.
Each year a panel of judges made up of University of Maryland personnel and industry experts selects one winner from groups of finalists in each of three categories: information science, life science and physical science. The winners are chosen based on the creativity, novelty and potential benefit to society of each of the inventions.
The Office of Technology Commercialization (OTC) at the University of Maryland was established in 1986 to facilitate the transfer of information, life and physical science inventions developed at the university to business and industry. In the past 18 years, OTC has recorded more than 1,400 technologies, secured more than 225 patents and licensed nearly 750 technologies, generating more than $22.6 million in technology transfer income. In addition, more than 40 high-tech start-up companies have been formed based on technologies developed at the university.
Published April 26, 2007