Desai Named ASME Fellow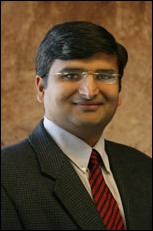 Department of Mechanical Engineering Professor Jaydev Desai was named an American Society of Mechanical Engineers (ASME) Fellow.
Desai is a member of the University of Maryland Robotics Center, Director of the Robotics, Automation and Medical Systems (RAMS) Laboratory and holds a joint appointment with the Institute for Systems Research. Prior to joining UMCP, he was an Associate Professor at Drexel University and served as their director of the Program for Robotics, Intelligent Sensing and Mechatronics (PRISM) Laboratory. He completed his undergraduate studies at the Indian Institute of Technology, Bombay, India and received his M.A. in Mathematics and both an M.S. and Ph.D. in Mechanical Engineering and Applied Mechanics from the University of Pennsylvania.
In addition to becoming an ASME Fellow, Desai recently became the Founding Editor in Chief of the Journal of Medical Robotics Research (JMRR), as well as the Editor in Chief of the multi-volume Major Reference Work on "Encyclopedia of Medical Robotics." which will have 4 volumes entitled "Image-guided Interventions," "Minimally Invasive Surgical Robotics," "Rehabilitation Robotics" and "Micro and Nano Robotics in Medicine."
Desai is the fourth Department of Mechanical Engineering faculty member named an ASME Fellow this year, joining colleagues Jeong H. Kim Professor Abhijit Dasgupta, Associate Dean William Fourney and Research Professor Yunho Hwang.
The ASME Committee of Past Presidents confers Fellow grade memberships on worthy candidates to recognize their outstanding engineering achievements. Nominated by ASME Members and Fellows, an ASME Member has to have 10 or more years of active practice and at least 10 years of active corporate membership in ASME.
Published May 28, 2015