Dr. Bao Yang Promoted to Associate Professor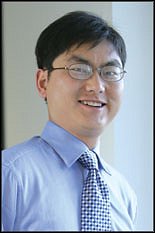 Bao Yang has recently been promoted to the title of Associate Professor of Mechanical Engineering with tenure, effective August 23, 2009.
Professor Yang's focus areas are particles, materials and characterization and he specializes in micro/nanoscale thermal transport and energy conversion; thermal science and its applications in electrical engineering, optical engineering, and material science; micro/nano devices; MEMS and nanotechnology. He is a member of many scientific and professional organizations including the American Society of Mechanical Engineers (ASME), the Materials Research Society, the American Physical Society, and the International Thermoelectrics Society. Professor Yang has published three book chapters and more than thirty-six journal papers. In 2004, he received the Ralph E. Powe Junior Faculty Enhancement Award from Oak Ridge Associated Universities (ORAU).
Yang first received his Ph.D. in Physics from the University of Science and Technology of China in 1998 and then went on to receive a 2nd Ph.D. in Mechanical Engineering from the University of California, Los Angeles in 2003.
Professor Yang joined the Department of Mechanical Engineering in 2003 as an Assistant Professor. He has taught ENME631 and ENME332, respectively, Advanced Conduction and Radiation Heat Transfer (a graduate class), and Transfer Processes. He is currently the director of the "Nanoscale Heat Transfer and Energy Conversion Laboratory" at UMD.
For more information on Professor Yang please visit his website: http://www.enme.umd.edu/facstaff/fac-profiles/yang.html.
--Lauren Frye '10, Mechanical Engineering Student Reporter
Published March 26, 2009