Dr. Michael Hicks to Lead Maryland Cybersecurity Center as Director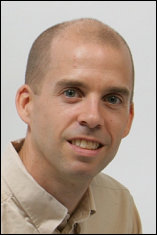 October 26, 2011
The Cybersecurity Center is pleased to announce that Dr. Michael Hicks will serve as the Director of the Maryland Cybersecurity Center (MC2), effective immediately. Hicks, who is currently an Associate Professor in the Computer Science Department and the University of Maryland Institute for Advanced Computer Studies (UMIACS), is also an affiliate Associate Professor in the Electrical and Computer Engineering Department at the University of Maryland, College Park.
"It's a tremendous honor and privilege to serve as the Director of the Maryland Cybersecurity Center," said Hicks. "We have talented and outstanding faculty across the University who are already conducting impressive and innovative research in cybersecurity and bringing new insights from that research to the classroom." In addition to this strong foundation, Hicks added, "the important and growing partnerships we have with industry and government will help cement the Cybersecurity Center as a national leader in this field."
Dr. Darryl Pines, Dean of the Clark School of Engineering, praised the appointment, noting "Michael Hicks is a great choice to lead our Maryland Cybersecurity Center. He is a first rate scholar and a leader in the security research community. He has the vision and passion to solve the great security problems of our time. I have no doubt whatsoever that the work of the center will have a great impact on our region, state and nation," added Dean Pines.
Dr. Patrick O'Shea, Vice President for Research and Senior Research Officer of the University of Maryland, applauded the selection: "I'm delighted that Professor Hicks will take the lead in promoting our comprehensive approach to cybersecurity that involves the human and technical aspects of this emerging field."
It's a tremendous honor and privilege to serve as the Director of the Maryland Cybersecurity Center
Dr. Larry Davis, Chair of the Department of Computer Science, lauded Hicks professional accomplishments, stating, "Mike is one of the nation's leading researchers in the area of provably correct, secure programs and has exceptional leadership skills. He is a great choice as the Center's first Director."
"UMIACS has a long and successful history of serving as a catalyst for interdisciplinary research related to computing on this campus," noted Dr. Amitabh Varshney, Director of UMIACS. Dr. Varshney added, "we are thrilled to have Mike lead our Institute's newest center on cybersecurity. Mike is a brilliant scholar and thought leader in software security."
Dr. Greg Morrisett, the Allen B. Cutting Professor of Computer Science at Harvard University, who worked with Hicks at Cornell University, praised Hicks' unique vision and leadership skills. "Mike is an outstanding and extremely creative researcher. He is also an excellent teacher, leader, and team player. I'm quite confident that he will leverage all of his creativity, drive, and leadership to advance the mission and goals of the Cybersecurity Center," noted Morrisett.
Hicks received his Ph.D. in Computer and Information Science from the University of Pennsylvania, after which he was a post-doctoral associate affiliated with the Information Assurance Institute of the Computer Science Department at Cornell University. In 2008-2009, Hicks was on sabbatical in Cambridge, England, where he worked at Microsoft Research and the University of Cambridge Computer Laboratory. His primary research interests are the development and evaluation of techniques to improve software reliability and security.
Published October 26, 2011