Dr. Yunho Hwang Receives 2020 Dean's Outstanding Performance Award in Research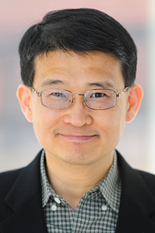 Dr. Yunho Hwang was awarded the 2020 Dean's Outstanding Performance Award in Research.
Dr. Hwang has over 20 years of research experience with The Center for Environmental Energy Engineering. He received his Ph.D. in Mechanical Engineering from the University of Maryland, College Park in 1997. He then joined CEEE, and was promoted to Research Professor in 2013 and then Co-Director in 2019. He is a world-renowned expert in energy efficiency and innovative energy systems in air conditioning and refrigeration.
His research has been supported by $12M in grants, and has resulted in over 300 papers on his research that have been cited more than 4,000 times. As a result of his accomplishments, he has been honored as a Fellow of ASME and of ASHRAE, several best paper awards, and has given numerous keynote and invited talks.
In addition to research, Dr. Hwang has also contributed significantly to the academic mission of the Clark School by developing and teaching many courses over the years, as well as serving as an advisor to several competition teams, which twice won The MaxTech and Beyond Competition sponsored by DOE.
Dr. Hwang will receive this award from Dean Robert Briber at the (virtual) Clark School Faculty Awards Celebration on Friday, September 25 at 3 p.m.
Published September 21, 2020