Elisabeth Smela one of five honored with Campus Women of Influence Award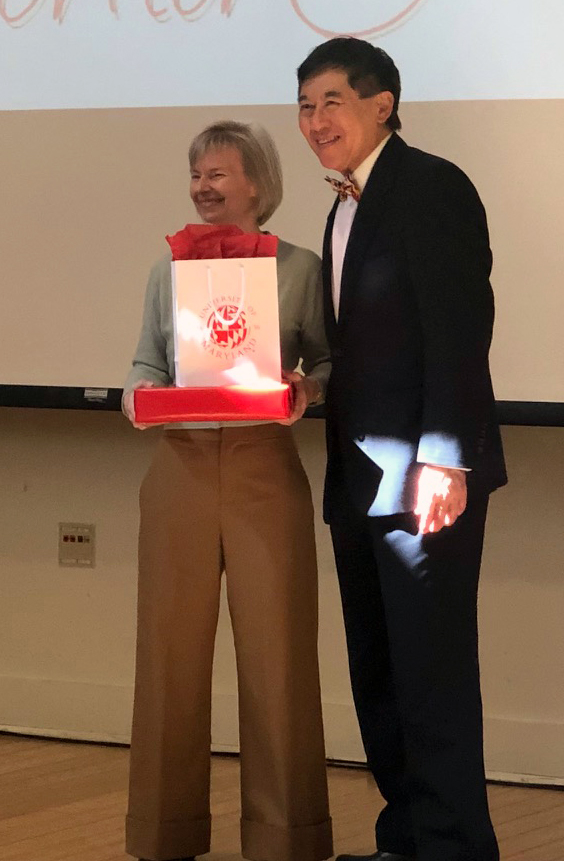 ISR-affiliated Professor Elisabeth Smela (ME) was one of five campus women recognized at the University of Maryland's Celebration of Women event on March 27. The event was sponsored by the President's Commission on Women's Issues, and included a panel discussion featuring the five Campus Women of Influence Award winners. The event is held annually during March, which is Women's History Month.
Dr. Smela has been a longtime advocate for women in general and academic women in the sciences in particular. She has served as the Clark School's Associate Dean for Faculty Affairs and Graduate Programs and has been a University of Maryland ADVANCE Professor; the program works to support the recruitment, retention, advancement and professional growth of women and under-represented minority faculty.
The program for the event reads, "Dr. Smela has been an active and effective advocate and mentor for women in a field where they are underrepresented. She has developed a website for women, been an active participant in the ADVANCE program, and advocated for policies and practices promoting work/life balance, and attention to diversity in the hiring and promotion process."
Currently Smela is serving as a Jefferson Science Fellow through the National Academies of Sciences, Engineering, and Medicine. The program is supported through a partnership among the U.S. academic community, professional scientific societies, the U.S. Department of State and the U.S. Agency for International Development (USAID).
Her research interests are in cell-based sensing, sensing skins for compliant robotics, mapping nucleic acids in tissue sections, polymer actuators, nastic actuators, other polymer MEMS and fiber optic sensing. She is the recipient of both the Presidential Early Career Award for Science and Engineering and the NSF CAREER Award.
About the Campus Women of Influence Award
The award recognizes women in the campus community who have made exemplary contributions to the improvement of the quality of women's lives, distinguishing themselves by working with and for women on campus and in the community.
The nomination and selection process is coordinated by the Award Committee which consists of members who are actively engaged in service to the University. It was established in 1977. University faculty, staff and students are all eligible for the award.
In addition to Dr. Smela, the 2019 award winners are:
Ugochi Chinemere, a senior in the School of Public Health who is active in Public Health without Borders and has travelled to Sierra Leone to assist in addressing health care needs there.
Cynthia Edmunds, Assistant to the President, who has served as the university's interim Chief Diversity Officer and Staff Obmuds Officer.
Andrea Goodwin, Director of the Office of Student Conduct for the university.
Christina Sessoms, a doctoral student in the Department of American Studies who studies Black women, higher education, and joy as a resilience mechanism.
Published March 28, 2019