Engineering Change in Burkina Faso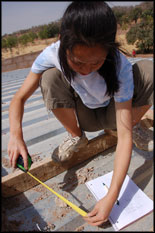 "I got to see a broader view of what opportunities are available internationally as an engineer, that engineers, too, can be involved with humanitarian work."
Three A. James Clark School of Engineering students and two faculty from the mechanical engineering department rang in the new year improving the quality of life for a community in the West African country Burkina Faso. Through a project sponsored by the
UMD student chapter of Engineers Without Borders
, the team installed solar panels and indoor lighting in an adult education center. The installed lighting now allows people of all ages to study later into the evening. The illuminated school will also be available for evening community meetings and other village gatherings.
The in-country contact was mechanical engineering undergraduate Thierry Some, whose family lives in Burkina Faso. Accompanying Thierry was team leader and engineering graduate student Jason West, and co-leader Kana Matsui, a sophomore civil engineering student. Faculty advisors Jungho Kim and Elisabeth Smela from the mechanical engineering department accompanied the students as on the trip.
The main purpose of the trip projects in addition to installing the lights and solar panels was to assess and plan future development projects. The team also evaluated other villages to assess future needs, such as small garden irrigation, solar water pumping, and water sanitation projects. The team plans to return to Burkina Faso in January 2008.
Other campus Engineers Without Borders projects include improving water sanitation in Ecuador, advised by mechanical engineering faculty Elias Balaras; potable water and irrigation enhancements in Thailand, advised by civil engineering faculty Deborah Goodings; and the improvement of potable water availability in Brazil, a project advised by Peter Chang from civil engineering.
Published February 16, 2007