Firebaugh Awarded ASNE Harold E. Saunders Award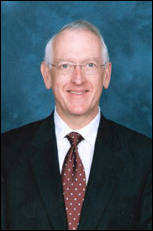 Department of Mechanical Engineering Glenn L. Institute Professor of Engineering and Professor of Practice Millard S. Firebaugh was recognized by the American Society of Naval Engineers with the 2016 Harold E. Saunders Lifetime Achievement Award for significant contributions to naval engineering.
"RADM Millard Firebaugh is widely recognized as a leader in advanced technology and program management including research and development, ship design, shipbuilding, power systems and electronics, alternative energy, business, education and personnel development.
A four-time M.I.T. graduate, Admiral Firebaugh's active duty and civilian roles have included: Ship Design Manager; NAVSEA where he managed the design of the SSN 688 Class Vertical Launch System and headed an Arctic task team, advancing the Navy's capacity to conduct Arctic operations; SEAWOLF Program Manager, leading a multi-billion dollar program in submarine technology development; Deputy Commander for Engineering and Chief Engineer, NAVSEA where he was responsible for specifications, standards, and design for Navy ships, systems, and equipment for acquisition and maintenance; General Dynamics, Electric Boat Corp serving as Vice President—Advanced Development and Chief Engineer then as Vice President—Innovation and Chief Engineer involved in the design of the VIRGINIA Class submarines and the conversion design of four TRIDENT Class submarines from strategic ballistic missile submarines to cruise missile submarines; and currently as Glenn L. Martin Institute Professor of Practice at the University of Maryland where he shares his broad technical expertise with the next generation of engineers and supports research in the Center for Engineering Concepts Development.
Admiral Firebaugh has been committed to technical excellence in naval engineering throughout his 55 year professional career with his proudest efforts directed at developing future leaders in the profession."
Firebaugh served as a commissioned officer in the U.S. Navy from 1961 until his retirement in 1995 after achieving the rank of Rear Admiral.
Beyond the Harold E. Saunders Award, Firebaugh also holds the American Society of Naval Engineers' Gold Medal, the U.S. Navy Distinguished Service Medal and has been elected to the National Academy of Engineering.
Published May 8, 2017