Giving Spotlight: Maria Korsnick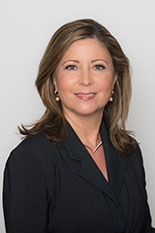 The Nuclear Energy Institute (NEI) is the largest policy organization in the United States serving the nuclear technology industry. As President and Chief Executive Officer, Maria Korsnick (B.S. nuclear engineering '86) aims to increase understanding of nuclear energy's economic and environmental benefits among policymakers and the public.
She frequently testifies before legislators at all levels of government, drafts policy recommendations to the Nuclear Regulatory Commission, and travels the world to ensure efficient and effective nuclear energy operations. She also facilitates communication among hundreds of companies to develop consistent safety protocols and disaster response efforts. Reliability engineering ensures the safe operations of nuclear power plants on a daily basis, and in particular, Maria applies the concept of probabilistic risk assessment to her work. She is passionate about training skilled engineers to do the same.
Maria is one of few women to hold a bachelor's degree in nuclear engineering from the University of Maryland, as the program is now only offered as a minor.
After graduation, she built a 30-year career in successively more senior roles working for Constellation Energy and Exelon. During that time, she oversaw the sites of Ginna Nuclear Station, Nine Mile Point, and Calvert Cliffs, and earned her Senior Reactor Operators License. In 2010, she became Constellation's Chief Nuclear Officer. In 2015, Maria turned her focus to the policy side of the industry and joined NEI.
Maria's goal is to create clean, sustainable, and safe energy for the future of our world, which she believes is already here. She emphasizes that nuclear is a clean energy, and she fights to eliminate any fear of the "waste" that it creates, as future generations will be able to repurpose that waste into another energy source. Maria emphasizes risk-informed decision-making in speaking with regulators and legislators, demonstrating how the risks associated with nuclear energy are exceedingly low. She advocates to right-size regulations and to evaluate changes based on their value to improving risk.
For Maria, the need for nuclear energy is overwhelmingly clear, and with that vision comes the need for a pipeline of talented and passionate engineers in the nuclear and reliability fields. She is a staunch advocate for women in engineering and STEM education. She has stayed involved with the Department of Mechanical Engineering-—which supports both the nuclear and reliability engineering programs—as a member of the department's Visiting Committee and frequent guest speaker for conferences, student events, and alumni events. Her contribution to the Marvin Roush Fellowship in Risk & Reliability will help open doors for students in these fields, and expand the market of quality engineers for our nuclear facilities. It will support the next generation in making responsible changes for our world.
Published June 1, 2020