Grad Student Named One of Maryland's "Innovators of the Year"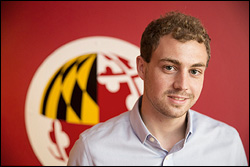 University of Maryland Department of Mechanical Engineering Ph.D. student Taylor Myers (B.S.'12 and M.S. '14, fire protection engineering) was named one of the Maryland Daily Record's 2014 Innovators of the Year for his role in developing Mulciber, a 93% efficient wood-burning stove described by Popular Mechanics as having emissions "so low they were almost unmeasurable."
Myers was among 28 award recipients recognized at the American Visionary Art Museum in Baltimore, Md. on October 15.
The Daily Record's Innovator of the Year awards were created "to seek out and recognize Maryland organizations and individuals who have demonstrated the spirit of innovation by creating products, services or programs that benefit their businesses, industries or communities." Nominees are judged on originality, impact, challenge and value.
MF Fire LLC, the company Myers co-founded with alumnus Ryan Fisher (B.S. '12 and M.S. '13, fire protection engineering), is now commercializing the Mulciber stove, which got its start as an entry in the 2013 Wood Stove Decathlon. Myers is MF Fire's chief technology officer.
The Mulciber stove is designed to serve the needs of people who don't have access to natural gas, particularly in low-to-mid income rural communities. According to Myers, wood is the second-cheapest way to heat a home after natural gas, so many people turn to wood stoves as a supplementary heat source to offset the rising costs of electricity and heating oil. MF Fire's goal is to transform what is usually perceived as an outdated technology into something cleaner and more affordable that also meets the Environmental Protection Agency's new performance standards for residential wood stoves. Mulciber can heat a house in the northeastern United States for approximately $1200 a year, compared to $1600 with a traditional stove, and emits a mere 0.2 grams of particulates per hour. A traditional wood stove emits 4.2 grams per hour.
MF Fire and the Mulciber stove have already won numerous awards, including the Energy Efficiency Track Prize and a People's Choice Award in the MIT Clean Energy Prize competition, second place in the national RECESS Pitch competition, and a TEDCO Maryland Innovation Initiative (MII) grant to develop the next prototype. The Mulciber Stove has been featured in Popular Mechanics, the New York Times, the Washington Post, and National Geographic.
For More Information:
Visit the MF Fire web site
Read the Daily Record's Official Announcement
See the award event's program booklet featuring Myers
Visit the Innovator of the Year web site
To follow MF Fire's progress, visit:
facebook.com/MFFire
twitter.com/_MFFire
Published November 5, 2014