Graduate Student Panelist at International Student Event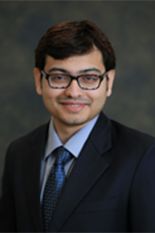 Last month, mechanical engineering Ph.D. candidate Shayandev Sinha spoke at an international student event held by the University of Maryland Graduate School. The event, whose audience was international students interested in learning more about campus resources and networking, was held September 21st and hosted by Interim Dean of the Graduate School Jeffrey Franke. The main goal of this event was to provide international students with more information about the United States academic system and the curriculum at UMD.
As a featured panelist, Sinha spoke about research opportunities available to international students, networking opportunities (such as the Mechanical Engineering Graduation Association (MEGA)) and how to keep a healthy work/life balance as graduate students. Sinha focused on the life of a PhD. student at UMD which goes through several academic steps like qualifiers, thesis proposal and then finally dissertation defense. International students need to be aware of proper planning of these stages as each of these are tied up with their international status. The interdisciplinary panel also featured Civil and Environmental Engineering Ph.D. student Lu Liu and graduate students from the College of Computer, Mathematical, and Natural Sciences (CMNS), the Smith School of Business and the College of Arts and Humanities (ARHU).
Sinha, who is originally from India, says he became involved with this event after receiving an invitation from the graduate school.
"Many international students are not aware of the resources the university has available for them," says Sinha. "Events like these are very important because it allows us to share different opportunities with students who might be new to the University of Maryland and the American education system."
Sinha is a graduate student in Assistant Professor Siddhartha Das's Soft Matter, Interfaces and Energy Laboratory (SMIEL). He researches liquids, polymers and 3-D printing of composites and electronics. Recently, his research on the possibility of making the plasma membrane of a biological cell positively charged was published in the journal Applied Physics Letters. He plans to graduate in the summer of 2018.
Published October 9, 2017