Guardian Article Cites Maryland Research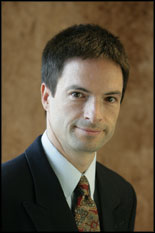 A study conducted by
Michel Cukier
, A. James Clark School assistant professor of
mechanical engineering
and affiliate of the Clark School's
Center for Risk and Reliability
and
Institute for Systems Research
, was cited in a front-page news article in the April 6, 2007
Technology section of The Guardian
online.
"How the web became a sexists' paradise," by Jessica Valenti, brings light to the online threats female bloggers and Internet users face today.
"A recent study showed that when the gender of an online username appears female, they are 25 times more likely to experience harassment. The study, conducted by the University of Maryland, found that female user-names averaged 163 threatening and/or sexually explicit messages a day."
Cukier's research on the topic has previously been cited in ABC News online ("Female Chat Names Generate More Threats") as well as a similar study that found computers connected to the Internet are attacked every 39 seconds ("Got A PC? You Need A Firewall") in Forbes' online magazine.
Published April 6, 2007