Gupta and Khalil Receive ASME Melville Medal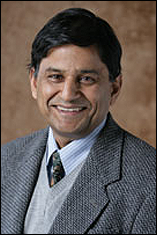 Department of Mechanical Engineering Distinguished University Professor Ashwani Gupta along with his graduate student Mr. Ahmed Khalil, and collaborators Professor K. Mark Bryden of Iowa State University and Professor Sang Chun Lee of Kyungnam University, S. Korea, were awarded the Melville Medal at the American Society of Mechanical Engineers (ASME) 2013 International Mechanical Engineering Congress and Exposition, which was held in San Diego, California in November.
The conference, hosted by the ASME, had a thematic focus on "Advanced Manufacturing". An emphasis on technological advancement and research innovation fueled lectures from engineers and scientists from across all disciplines. With over 4,000 attendees, the Congress focuses on innovation that shapes the field of engineering technology.
A University of Maryland faculty member since 1983, Gupta was appointed as a Distinguished University Professor in 2008. Known as "Mr. Green Flame" in the technical community for his discovery of an environmentally benign flame that uses hydrocarbon fuel, Gupta has received numerous honors and awards for his work on combustion. He has frequently received Best Paper Awards from both the ASME and the American Institute of Aeronautics and Astronautics (AIAA) over the past 25 years, and has served as the Director of Propulsion and Energy at AAIA and served on AIAA's Board of Directors from 2007 to 2013.
The Melville Award is the highest honor that ASME can reward an original paper. The award requires that the nominated paper be originally published solely in the ASME Transactions no later than two years prior to the award.
For more information on Professor Ashwani Gupta, please visit his faculty page.
Published December 20, 2013