Han and Colleagues Win ICEPT 15 Outstanding Paper Award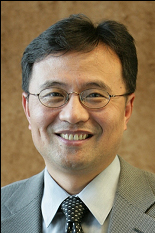 Mechanical Engineering Professor Bongtae Han, along with colleagues Przemyslaw Gromala and Alicja Palczynska, received the Outstanding Paper Award at the 16th International Conference on Electronic Packaging Technology (ICEPT 2015) held August 11-14th in Changsha, China.
The team's paper, "Prognostic Approaches for the Wirebond Failure Prediction in Power Semiconductors: A Case Study Using DPAK Package," explored the reliability of the standard discrete packaging (DPAK) component under passive temperature cycling as well as combined passive and active temperature cycling is investigated.
The team developed a special test vehicle designed to mount six DPAK components with various orientations on a printed circuit board (PCB). They then monitored the stress state during the passive temperature cycling using three IForce piezoresistive stress sensors mounted on one side of the PCB. In addition, the team used three temperature sensors for in-situ temperature measurement, which is critically required for active operation of the designed test vehicle during active power cycling and/or field condition tests.
The team presented only the results of the passive temperature cycling in their paper, but based on their preliminary findings, a relation between the damage evolution and the failure of the DPAK can be established. These insights offer a potential application for using the IForce sensor as a canary device for prognostics and health management.
Han is a member of Maryland's Center for Advanced Life Cycle Engineering (CALCE) and director of CALCE's Laboratory for Optomechanics and Micro/nano Semiconductor/Photonics Systems. His research interests are in the areas of design of LED-based lighting system, mechanical design of photonics and microelectronics devices, hermeticity of MEMS devices, moisture and gas diffusion in flexible electronics and experimental micro and nanomechanics (optical methods and methodologies).
Gromala is a Bosch engineer who has been supporting some of Han's CALCE activities and is both a sponsor and technical colleague. Palczynska is a Ph.D. candidate at Technische Universität Darmstadt who currently works as an intern at Bosch. Han has served as a technical advisor for her thesis and publications made through CALCE consortium projects.
Published August 18, 2015