Harish Ganapathy Wins ASHRAE's Graduate Grant-in-Aid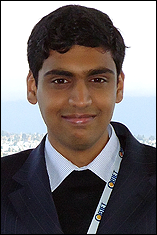 Ph.D. student Harish Ganapathy was selected to receive one of American Society of Heating, Refrigerating and Air Conditioning Engineer's (ASHRAE) Graduate Grant-in-Aid awards worth $10,000 to fund his research in HVAC and refrigeration.  He will receive an additional $1,500 for his personal use after he publishes a paper based on his research in an ASHRAE journal.  

This annual grant is awarded by ASHRAE's research administration committee, which is comprised of ASHRAE chapter members.  Students must complete an application and are ranked based on four aspects: academics, research plan, faculty recommendation, and the student's potential for future ASHRAE involvement.  Each year ASHRAE awards up to 25 grants that are then administered by the student's university. 

Winning this grant allows Ganapathy, who is advised by Prof. Michael Ohadi, to continue to pursue research in fluid flow and thermal phenomena, a topic he said he has been interested in since he was an undergraduate student.  His doctoral research focuses on the fundamentals of multiphase flow, heat, and mass transportation phenomena in advanced microchannel geometrics, with a specific focus on the development of next-generation gas-liquid absorption systems. 
For more information on ASHRAE's grant program visit their website . 
Published May 9, 2012