Holloway & Roush Clark School Among Honorees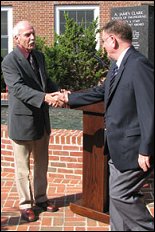 Mechanical Engineering Professors Emeritus David Holloway and Marvin Roush were honored among ten engineering faculty and staff at the Engineering Outstanding Commitment Award ceremony held on September 18 at the Glenn L. Martin Hall Plaza.
Professor of Mechanical Engineering and Chairman of Aerospace Engineering Bill Fourney was the emcee congratulating Holloway and Roush for their contributions to the Clark School. Their names are now engraved on a fountain that is part of the Glenn L. Martin Hall Plaza. Dr. Mark A. Shayman, Associate Dean for Faculty Affairs in the A. James Clark School of Engineering, was also present to provide recognition.
David Holloway was instrumental in establishing an excellent automotive engineering program for ME students, advising the solar-powered vehicle, hybrid vehicle and Terps racing vehicle student project teams. Marvin Roush was a seminal force in building the reliability engineering program for the department.
The department congratulates Holloway and Roush for this outstanding recognition and for their contributions to the mechanical engineering program at Maryland.
Published September 27, 2006