Johan Larsson joins Department of Mechanical Engineering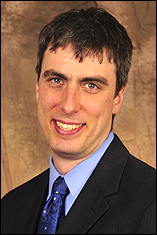 Assistant Professor Johan Larsson joined the department from the Center for Turbulence Research at Stanford University, where he started as a postdoctorate fellow and later became part of the research staff. Larsson earned his Ph.D. from the University of Waterloo in Ontario, Canada in 2006.

While Larsson has a background working in the engineering industry from his native Sweden at Volvo Car Corporation, while studying at the University of Waterloo he decided to pursue a career in academia. His research focuses on fluid mechanics, turbulence, combustion, and computational science. He is particularly interested in developing physical models and mathematical methods that can be used to predict the behavior of complex fluid mechanical problems. He is pursuing that interest by developing ways to predict the performance of supersonic combustion ramjets (scramjets), engines that could be used to fly a plane between five and 10 times the speed of sound.

Larsson is teaching ENME392 Statistical Methods for Product and Process Development this spring. He is looking forward to working with the fluid mechanics group in the department, with the "very exciting and fundamentally sound research going on," Larsson said.
Published March 25, 2013