Kailkhura and Vathsavai Win Best Consortium Student Presentation Award, Spring 2019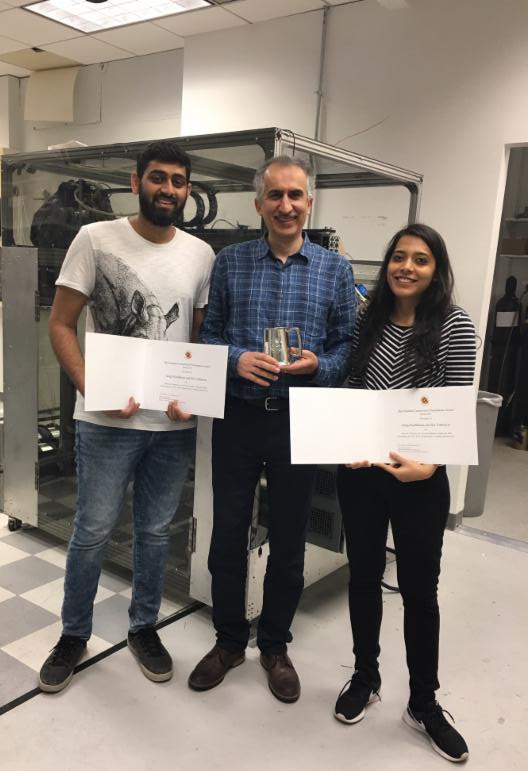 Story by Nicole Kirkner
Ph.D. student, Gargi Kailkhura, and master's student, Sai Vathsavai, won Best Student Presentation for "Recent Progress on a Novel Polymer Composite Heat Exchanger for Dry Air to- Liquid (Dry Cooling) Applications" at the CEEE Spring Consortium meeting. CEEE students gave 15 presentations providing research updates to 26 companies. "The sponsors' feedback demonstrated that they performed at the highest standard of organization, accuracy, clarity and conciseness – and that your research was of great interest the AHXPI sponsors", said CEEE director Prof. Reinhard Radermacher.
The award was announced at the consortium student luncheon and feedback session held the day after the meetings. Each student received a made-in-Maryland engraved pewter tankard and certificate as recognition for their achievement. "Sai and Gargi are two important members of our team working on development of novel polymer composite heat exchangers. They have come a long way but I expect that this to be just the first example of many more successes to come for them," said Dr. Amir Shooshtari. "They have made us proud and we are looking forward to their continuous progress and a bright future."
"It is a great opportunity to be a part of CEEE and have our project recognized,"
"It is a great opportunity to be a part of CEEE and have our project recognized," Kailkhura said. "Thanks to the amazing research team in our laboratory, our novel work on composite heat exchangers by using our patented cross-media approach, 3D printing technology, and thermal design skills, has gained enough momentum for us to maximize our potential towards industries and research sectors."
The Center for Environmental Energy Engineering's consortium meetings are held semi-annually and feature research presentations to sponsors by our students and faculty, feedback sessions, lab tours and networking events. The spring sessions were held March 11-13 at the UMUC College Park Marriott Inn and Conference Center. Nearly 80 people attended in person and online from countries throughout the world. Attending sponsors provided valuable feedback to students on their presentations and select the best presentation at each consortium meeting.
The next consortium meeting will be held from September 16-18, 2019 in College Park. Registration will be open in July. Go online to http://www.ceee.umd.edu/events/consortium.
The Center for Environmental Energy Engineering provides innovative solutions to industry's research and development challenges and cost-effective, timely technology transfer. CEEE has developed a highly flexible and task-oriented consortium structure that emphasizes pre-competitive research. Sponsors include industrial companies and government agencies that pool research funds leveraged by additional support from the University of Maryland.
Published April 8, 2019