Kim Presents Keynote at International Conference on Multiphase Flows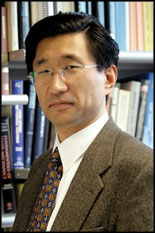 Mechanical Engineering Professor Jungho Kim gave a keynote lecture at the 8th Annual Conference on Multiphase Flows (ICMF2013) that was held May 26-31, 2013 in Jeju, Korea. ICMF is one of the premier conferences in the field of multiphase flows and their applications.
The title of Kim's keynote title was "Gravity Scaling of Flow Boiling Heat Transfer," and highlights research he has performed over the past four years on how the lack of gravity in space affects the boiling process. This work has been done with support from NASA and follows Kim's Microheater Array Boiling Experiment (MABE) that was successfully conducted on the International Space station in 2011.
In addition to presenting at ICMF2013, Kim has been awarded a Japan Society for the Promotion of Science (JSPS) Fellowship, which will support a three-week visit to Japan at Kyushu University.
The JSPS fellowship allows Japanese researchers to nominate colleagues from outside of Japan who have a record of significant research achievements for an opportunity to visit a Japanese institution for either short or long-term periods. The fellows work with their hosts to advance research and foster international cooperation through collaborative discourse, lectures, and research activities.
Kim will be collaborating with Professor Yasuyuki Takata during his visit to Japan and will give technical talks in Sapporo, Yokohama and Osaka.
For more information on Dr. Kim and his research, visit his faculty profile and website.
Published May 30, 2013