Kusimo Wins $1,000 in Alpha Phi Alpha Scholarship Contest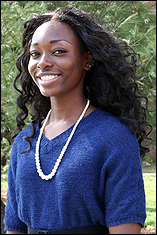 Sophomore mechanical engineering major Abisola Kusimo won a $1,000 scholarship from the University of Maryland's Alpha Phi Alpha fraternity.  Kusimo competed among four finalists in an oratorical contest where each participant addressed why youth do not appear to be as active in bringing about social change compared to other generations.

Kusimo said her advisor Tamara Hamilton in the Center for Minorities in Science and Engineering encouraged her to apply for the scholarship. "I was so proud of myself, that I found the time not only do it but to put my heart into it, and end up winning," Kusimo said.  Her winning oral presentation encouraged students to speak up and become advocates for their beliefs.  

Spare time is in short supply for Kusimo.  She helps promote engineering to prospective students as a Clark School of Engineering ambassador  and is involved with two research projects, one with Dr. Peter Sandborn on skills obsolescence, and another working with Dr. Miao Yu using MEMS (Micro Electronic Mechanical Systems) technology to study fiber optics.  She also works as an office clerk for the Clark School of Engineering Dean Darryll Pines. 
  
This scholarship puts Kusimo one step closer to her goal of combining a mechanical engineering degree at UMD with a PhD in Environmental Engineering to improve the lives of those living in developing countries like Nigeria, where both her parents are from.
For more infomation on the Center for Minorities in Science and Engineering
Published March 23, 2012