Lei Gao Admitted into the Future Faculty Program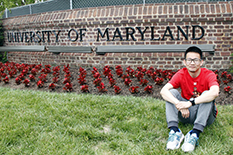 The A.J. Clark School of Engineering has awarded graduate research assistant, Lei Gao, with a position within the Future Faculty Program. The intent of the program is to produce highly qualified educators for placement in the world's engineering schools and to prepare doctoral students to achieve career-long success in the academic world as educators and researchers. Gao is part of the EEHP team at the Center for Enviornmental Energy Engineering.

"I am excited about enrolling into this Future Faculty Program and I am grateful for Dr. Radermacher and Dr. Hwang's recommendation and encouragement," says Gao. "My hope is that this program will make it more clear to me about what it would be like to be a faculty member. This program is helpful and necessary for students considering a career in academia".
Advised by Prof. Reinhard Radermacher, Gao's research topic is on micro-grid system optimization. For this project Mr. Gao is developing new energy efficiency enhancing technologies for micro-grid system though concept development and modeling. His breakthroughs have been the enrichment of the function of the microgrid system through a desalination system, improving system efficiency through the supercritical CO2 power system, and constructing dynamic programming platform for a microgrid system.
"During his three years at Center for Environmental Energy Engineering (CEEE), he has improved his research skills and has demonstrated his excellent abilities in the lab, " says Radermacher. "Most importantly, he has a great drive and is determined to succeed."
The Future Faculty Program is open to all doctoral students enrolled in the Clark School or the College of Computer, Mathematical, and Natural Sciences' Department of Computer Science who have advanced to candidacy OR have completed coursework and qualifying exams.

Published December 18, 2018