Li, Solares Achieve Tenure at Department of Mechanical Engineering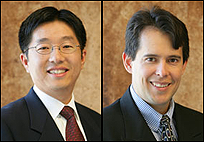 Assistant Mechanical Engineering Professors Teng Li and Santiago Solares will achieve tenure next month. Both Li and Solares have worked for the department for six years and have researched extensively in their respective fields of nanomechanics and scanning probe microscopy while providing mentorship to students.

Providing such mentorship was one of Li's motivations for pursuing a career in academia. "By nurturing students to develop an inquisitive mind and take an active part in seeking knowledge, I believe it is the greatest work one can do to the mind of students," Li said. Li's research focuses on the nanomechanics of flexible electronics and has recently extended to exploring the use of less conventional materials such as graphene in this field, as a potential solution to revolutionize flexible electronics technology. Zhao Zhang, a recent Ph.D. graduated from Li group, won the 2011 UMD Distinguished Dissertation Award for graphene research.

Solares has primarily focused on multi-frequency applications of atomic force microscopy (AFM), contributing to the development of its theoretical framework and to the expansion of the instrument's ability to measure more complex material properties simultaneously with topographical imaging. The complex and evolving nature of AFM "is part of what keeps me interested in exploring in greater detail the problems I have undertaken," Solares said. Solares has mentored students such as graduate student Jeffrey Williams, who won first place at the 2012 Emerging Researchers National Conference in STEM.

Li and Solares collaborated together with a research team that demonstrated for the first time that the application of strain can lead to the formation of quantum dots in suspended graphene. This study of "Electromechanical Properties of Graphene Drumheads" was published in Science and was also selected as one of the recent Highlights of Research in the magazine.
"By nurturing students to develop an inquisitive mind and take an active part in seeking knowledge, I believe it is the greatest work one can do to the mind of students," Dr. Teng Li
Published July 10, 2012