ME 2008 Summer Picnic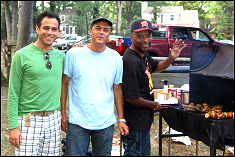 "This was a wonderful opportunity for graduates students, faculty, and staff to interact in an informal setting...and the food was great!"
The Mechanical Engineering Graduate Office welcomed over 100 graduate students, faculty and staff members to its Annual Summer Picnic. The event occurred on September 19th at Calvert Park in College Park, Maryland. Organizers Ama DaMata & Fitz Walker (Graduate Coordinators), and Dr. Sami Ainane (Director of Student Services), proudly shared with the ME community an excellent choice of food including Dr. Ainane's world-famous shish kabobs. Everyone had a chance to relax, mingle and play games during a pleasant, sunny afternoon. Mr. DaMata proudly stated, "this event reinforces the spirit of community within our department."
The Graduate Office would like to thank our many attendees and we are looking forward to seeing you all next year.
Published September 25, 2008