ME Alumnus Sam Hollenbach Shares His Story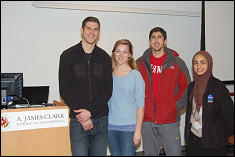 Mechanical Engineering alumnus and former Terps quarterback Sam Hollenbach returned to campus on Tuesday, December 13 to share his experiences as a student athlete and discuss the importance of mechanical engineering with students in a special Career Paths presentation.
Hollenbach graduated from University of Maryland in 2007 with a B.S. in mechanical engineering. He was the quarterback for the Maryland football team from 2004 to 2006. After college, he played for the Washington Redskins in 2007 and 2008, and was a member of the last Redskin team to make the playoffs. After leaving the NFL, he joined Under Armour® as a Mechanical Engineer and Project Lead for the Innovation team in 2009, where he has been focusing on developing emerging technologies into innovative Under Armour® products.
This special program was co-sponsored by the Mechanical Engineering Office of Undergraduate Advising and the student chapter of ASME (American Society of Mechanical Engineers).
Mechanical engineering alumni are invited to return to campus to share their experiences after graduation by participating in the Career Paths class. For more information on Career Paths, contact Professor David Bigio at dbigio@umd.edu or to find other ways to connect with the Department of Mechanical Engineering, contact Cornelia Kennedy at ckennedy@umd.edu
Published December 15, 2011