ME Alumnus Takes Lead at Honda Racing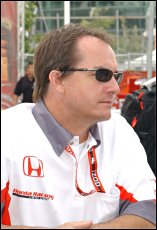 ME is pleased to congratulate alumnus Marc Sours (B.S., 1993) on his recent promotion to General Manager and Chief Engineer of Honda Performance Development Inc. (HPD). The Santa Clarita, CA-based HPD is the technical center for Honda's racing operations and specializes in the design and development of race engines and performance parts. Sours' new position will increase the scope of his managerial duties with HPD, as he will be responsible for implementing the company's forward-thinking strategies while overseeing 147 associates. In addition to his new responsibilities, Sours will continue to coordinate Honda's expansion of activities within grassroots motorsports markets as Large Project Leader.
A native of Silver Spring, MD, Sours passion for racing led him to the Clark School of Engineering at the University of Maryland (UMD), one of the few universities to host a Society of Automotive Engineers Formula (FSAE) racing program. The nationwide program was designed to help automotive engineers develop aptitude with designing and engineering race-ready vehicles. Each year the program holds a national championship tournament, which the University won in 1987, a year before Sours' matriculation. Sours participated in the UMD FSAE program from 1990-1993. Reflecting on his decision to enroll at UMD, Sours remarks, "Maryland offered a good education in mechanical engineering… [and] the school's successful history [in FSAE] sealed my decision."
"Maryland offered a good education in mechanical engineering… [and] the school's successful history [in FSAE] sealed my decision."
The practicality and depth of the Clark School's mechanical engineering curriculum, including the FSAE program, provided Sours with an extensive knowledge base and skill set that ensured professional success. In November 1993, he applied to HPD after seeing an ad in On-Track magazine. After hearing nothing for several weeks, he received a job offer in February 1994. Before receiving an offer from HPD, Sours was planning to continue his racing career using a borrowed Formula Ford class car. To say the HPD offer changed his plans would be an understatement. Sours states, "The opportunity was too good to pass up, so I hung up my helmet and started at HPD in March."
Sours has held a variety of shop, trackside and office positions since joining HPD in 1994, including a stints as a Trackside Engineer for former CART Driver Champion Alex Zarandi and Lead Engineer for Team Penske and 2001 CART Driver Champion Gil de Ferran. Recently, Sours served as a Production Division Manager responsible for strategic planning and development of engine production, manufacturing operations and quality assurance. When comparing track and office positions, he notes time as the major difference, "At the track, projects and activities have a lifespan measured in weeks and days…office based business plans are based on single or three year periods." Sours' diverse professional experience, coupled with the education he received at the Clark School, has been integral in preparing him for his current position. Sours advises students who are looking for work in today's challenging economy to seek related work experiences outside school, as a way to supplement their education, "It's better to take a lower paying job that's related to your field, than a higher paying one that is outside of it. The related job will mean more on a resume."
Although Sours is making the most of his career, he misses the sense of community he found at UMD. He describes the College Park campus as having "a wide group of divergent folk with many backgrounds, experiences, and cultures." He adds, "Maryland has so many different educational paths, that you can't help meeting people that are pursuing goals very different from your own. The environment offers a freshness that I think, looking back, is unique."
Published June 17, 2011